Dates 2020
| Check-in | Check-out | Season |
| --- | --- | --- |
| 14.05.2020 | 18.05.2020 | MIDDLE |
| 21.05.2020 | 25.05.2020 | MIDDLE |
| 28.05.2020 | 01.06.2020 | MIDDLE |
| 04.06.2020 | 08.06.2020 | HIGH |
| 11.06.2020 | 15.06.2020 | SUPER HIGH |
| 18.06.2020 | 22.06.2020 | SUPER HIGH |
| 25.06.2020 | 29.06.2020 | HIGH |
| 02.07.2020 | 06.07.2020 | HIGH |
| 09.07.2020 | 13.07.2020 | HIGH |
| 16.07.2020 | 20.07.2020 | LOW |
| 23.07.2020 | 27.07.2020 | LOW |
| 06.08.2020 | 10.08.2020 | LOW |
| 13.08.2020 | 17.08.2020 | LOW |
| 20.08.2020 | 24.08.2020 | LOW |
| 27.08.2020 | 31.08.2020 | LOW |
| 03.09.2020 | 07.09.2020 | LOW |
| 10.09.2020 | 14.09.2020 | LOW |
| 17.09.2020 | 21.09.2020 | LOW |
| 24.09.2020 | 28.09.2020 | LOW |
5 days / 4 nights
Included services:
2 airport transfers (group or individual depending on flights): 1/airport-hotel and 2/ hotel-airport

4 nights in Saint-Petersburg hotel (Park Inn by Radisson Nevsky 4**** or similar) including breakfast

3 lunches in the city restaurants

3 full-day tours in Saint-Petersburg with local guide

Porterage service in hotel

Immigration registration fee in hotel

* Should any evens of International or Federal importance coincide with the dates of the tours
(such as Economic and Legal forums in Saint-Petersburg), we reserve the right to review the rates and offer a non-central hotel as a substitute.
** Due to UEFA games which will take place in 2020, non-central 4**** hotel can be offered
Map of the route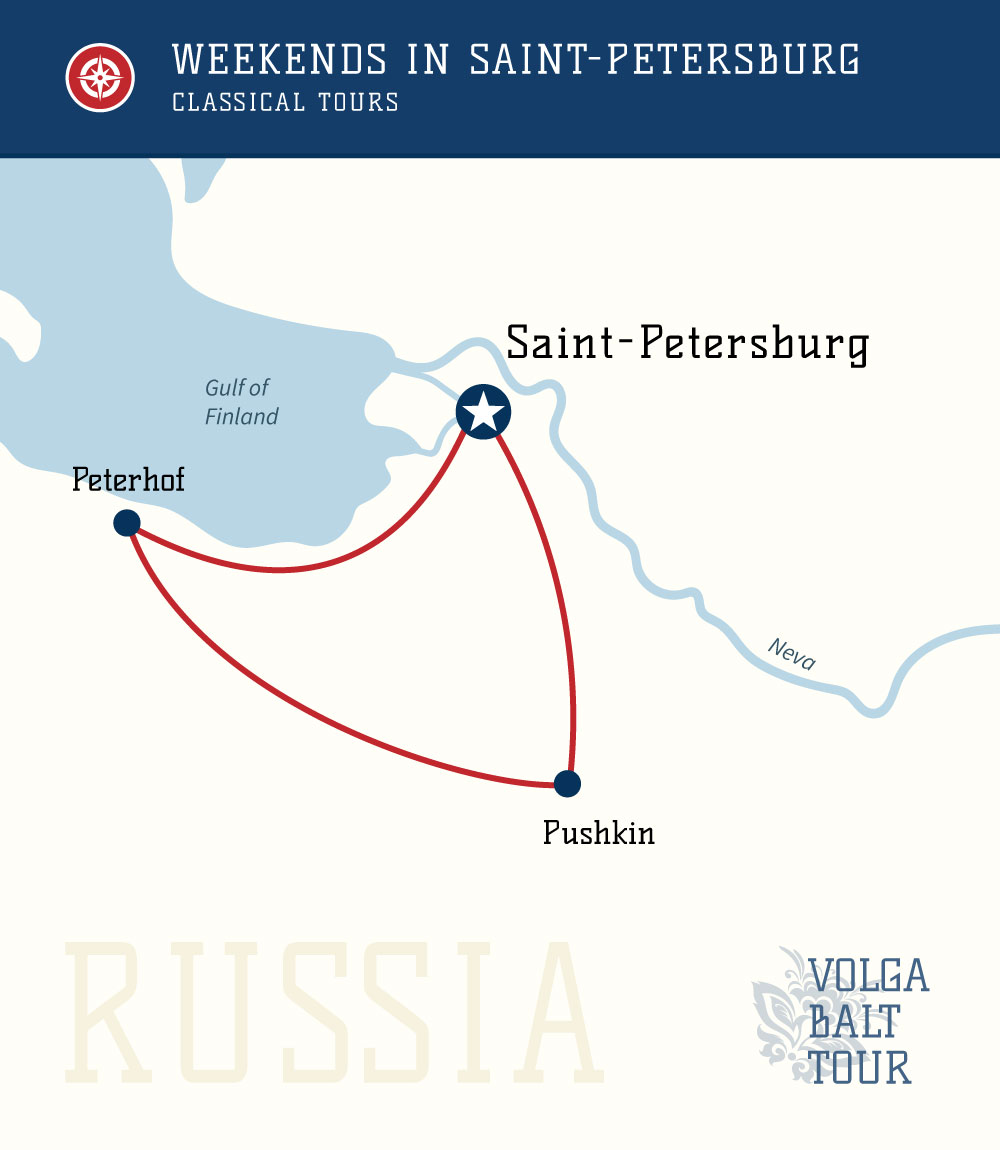 | Day | Place | Program |
| --- | --- | --- |
| 1 | | Thursday. Transfer from the airport to the hotel. |
| 2 | | Friday. City tour with visit to St. Peter and Paul fortress. Lunch in the city restaurant. Visit to St. Isaak cathedral and to the Church on the Spilled Blood. |
| 3 | | Saturday. Visit to the Hermitage. Lunch in the city restaurant. Rivers and canals tour. Folk show "Feel Yourself Russian" with buffet in Nikolaevsky Palace. |
| 4 | | Sunday. Visit to Pushkin (Catharina's' Palace + park). Lunch in the city restaurant. Visit to Peterhof (Grand Palace + Lower Park). |
| 5 | | Monday. Transfer from the hotel to the airport. |
Program
Coming soon
Information
* For groups of less than 5 pax we reserve the right to use public transportation on short distances.
** Groups of different languages can be combined in one bus with individual guides.
Prices